Volvo XC90 Recharge Vs. Tesla Model X Comparison & Differences

The old west is home to a modern-day showdown between the Volvo XC90 Recharge vs. the Tesla Model X. Both of these vehicles have been updated for the current model year. Both vehicles have a cleaner, more sustainable vision of the future. One of them is more expensive, claiming to push the envelope of luxury, while the other actually is a luxury vehicle for substantially less. In fact, Car and Driver magazine gave one of them a 6.5/10 rating while the other one received a 9.5/10 plus the prestigious Editor's Choice Award. If you already think you know the winner, jump right to our Volvo XC90 Recharge lease specials. If you would rather keep scrolling through the following surprises, consider us your guide.
Starting MSRP*:
$63,800
Engine:
2.0L 4-cylinder
Horsepower:
328
Range:
520 miles
Seating:
Up to 7
Length:
194.9-inches
Width:
79.1-inches
Cargo volume (SAE):
65.5 cu. ft.
Fuel tank size:
18.5 gal
Interior benefits:

2 LCD monitors
Sensus Navigation Pro
Apple CarPlay and Android Auto integration
Bluetooth wireless technology
SiriusXM Satellite Radio
2 USB-A ports
2 USB-C ports
10 speaker high-performance audio system

Shop Model:
View Volvo XC90 Inventory
2021 Tesla Model X
Starting MSRP*:
$79,990
Engine:
Electric
Horsepower:
670
Range:
340-370 miles
Seating:
Up to 6
Length:
198.3-inches
Width:
78.7-inches
Cargo volume (SAE):
87.8 cu. ft.
Fuel tank size:
n/a
Interior benefits:

2 LCD monitors
Bluetooth wireless technology
1-year premium connectivity package
17 performance speakers






Shop Model:
View Volvo XC90 Recharge Specials
Volvo XC90 Hybrid vs. Tesla Model X: An Overview
This section will cover your options regarding pricing, leasing, finance, and more. But before we get to that point, let's take a look at the smoking gun in this showdown. The Volvo XC90 is a hybrid. The Tesla Model X is all-electric. So how do these two even compare? Both of them claim to be full-size premium SUVs, but it's the Volvo XC90 Hybrid that gives you standard leather and standard seating for seven. The Tesla Model X does not. The Tesla Model X boasts an impressive EPA-estimated range of 360 miles.1 However, this requires you to live a fully electric vehicle (EV) lifestyle. The Volvo XC90 Hybrid also allows for emission-free driving but gives you an EPA-estimated combined range of 520 miles.1
How does the Tesla Model X vs. Volvo XC90 Recharge rate in terms of pricing?
The Tesla Model X has a starting price of $99,990 MSRP.2 At that price, features like adaptive cruise control and semi-autonomous driving are still optional. At a starting price of just $63,800 MSRP2 for the Volvo XC90 Recharge, you'll be pleased to know that those two features are standard equipment, in addition to wireless charging and many other features.
If you throw every option available from Volvo Cars at your Volvo XC90 Recharge (such as massage seats, ventilated seats, in-car refrigeration, air suspension and others), your final build price still comes in under the Tesla base model's entry price. With that in mind, leasing and financing will always favor the Volvo XC90 Recharge — with the Volvo XC90 offering a payment option that Tesla does not.
Introducing Care by Volvo - An all-in-one monthly payment that allows you to lease a vehicle the modern way. Your payment includes insurance, excess wear and tear, maintenance, wheel and tire protection, and 1,250 miles per month. Additionally, you can switch to another vehicle (or even the same vehicle but in your new favorite color) every few months. No strings. No surprises. Just easy ownership from Volvo Cars.
So for the Volvo XC90 Hybrid vs. Model X, in terms of just sheer cost and flexibility, we'd trend toward the Volvo XC90 Hybrid. But what about everything else? Let's take a closer look.
Volvo XC90 Hybrid vs. Tesla Model X: Power, Performance & Driveability
Here's where we get to see some stark differences between these two vehicles. After all, one is a hybrid, and one is fully electric. What are the benefits from both sides? You decide:
The Tesla Model X -At a starting 670 horsepower, the Tesla Model X Long Range offers enviable acceleration. If making minced meat of a dark desert highway is part of your plan, then the Model X Plaid will allow for 1020 horsepower. Admittedly, that's a lot of chiropractic fun waiting to happen. But that kind of power starts at $119,990 MSRP.2


The Volvo XC90 Recharge -The twin-charged Volvo XC90 Hybrid also uses a 270-volt lithium-ion battery to achieve a total output of 400 horsepower. What does all this power translate to? Despite a delta of about 270 horsepower, the Volvo XC90 Hybrid vs. Tesla Model X can tow the exact amount of 5000 pounds, when properly equipped. Further, the Volvo XC90 Hybrid enjoys a combined range of 520 total cruising miles while the Tesla Model X only achieves 360 miles.1 Which begs the question, "Why does the Volvo XC90 Hybrid seem to do more with less?"


With a longer wheelbase and higher roofline than the Tesla Model X, the Volvo XC90 Hybrid exudes comfort and cruising confidence. Everything about the Volvo XC90 Hybrid is there to delight the senses. You've got your choice of luxurious leather grains in addition to a City Weave textured seat that is a throwback to the original woven seats in Volvo wagons. Additionally, Volvo Cars offers an innovative rear booster seat option that's hidden in the rear bench. Tesla does not. So with an SUV as the workhorse for a family on the go, would you choose a brand that has nearly 100 years of safety innovations or a brand that has seen many incidents gain media attention? Tesla Model X vs. Volvo XC90 safety: point, Volvo Cars.
However, a rather unusual feature exists in the Model X. Known as "Whoopee-Cushion Mode," let's just say you can keep your passengers entertained (and at random if you so choose) along any journey. Volvo Cars offers no such feature. Volvo XC90 Hybrid vs. Tesla Model X humor: point, Tesla.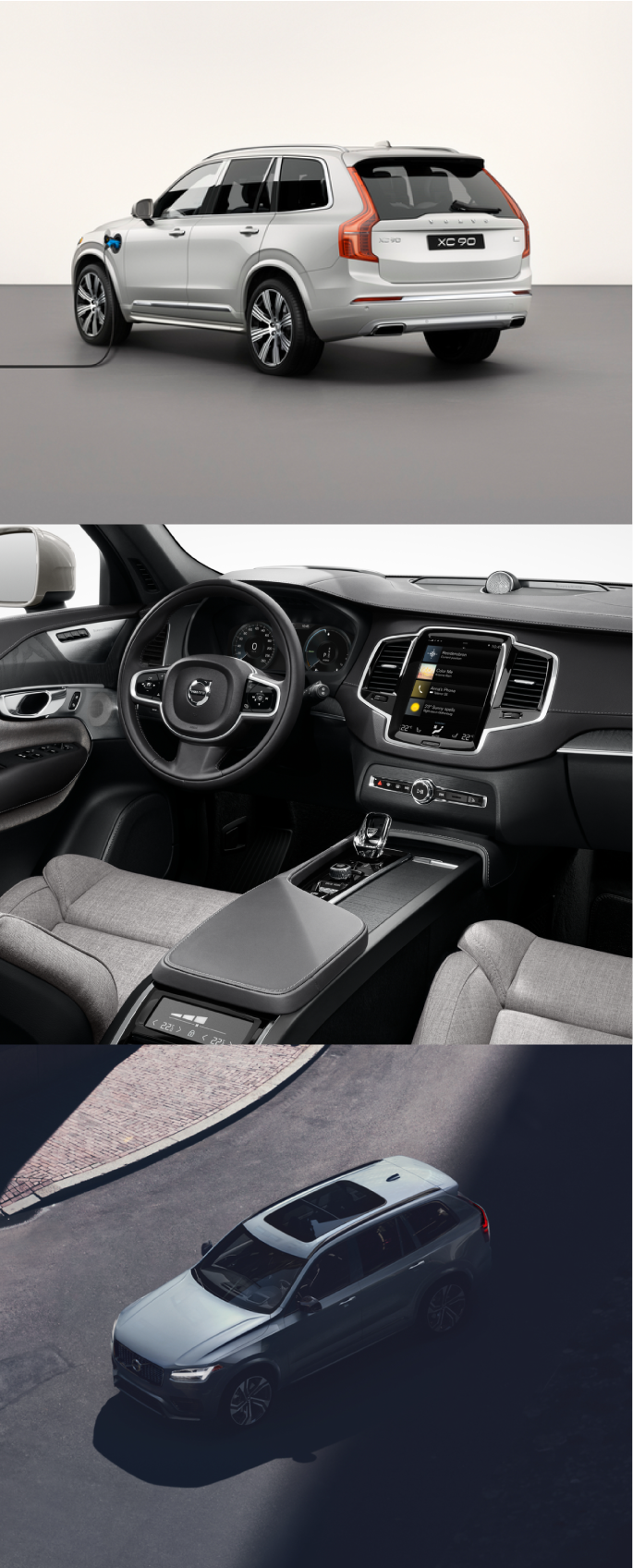 Volvo XC90 Hybrid vs. Tesla Model X: FAQs
Both of these SUVs are sophisticated and beautiful machines. It would be pretty easy to step back and talk about all the details. To truncate your research time, we've highlighted some of the top questions (with answers) we get from customers when they're comparing these two vehicles.
Which costs more: Volvo XC90 Hybrid vs. Tesla Model X?
By far, the Tesla Model X is the more expensive of the two. And keep in mind that the higher price tag doesn't necessarily mean more standard features. In fact, it's the Volvo XC90 Hybrid that gives you adaptive cruise and semi-autonomous driving standard. The Tesla Model X does not.
Is the Volvo XC90 Recharge bigger than the Tesla Model X?
The Volvo XC90 Recharge has a longer wheelbase and a taller ceiling. The Tesla has a longer overall length and greater width. The benefits of a longer wheelbase are enhanced highway cruising and tow tracking. And, of course, a taller ceiling equates to more headroom.
Which has a better range: Tesla Model X vs. Volvo XC90 Recharge?
The winner in this category is the Volvo XC90 Recharge. The combined total range is an impressive 520 miles rated by the EPA vs. the maximum 360-mile range rated by the EPA for the Tesla.1
Tesla Model X vs. Volvo XC90 Hybrid: Conclusions
There's no doubt about it. Tesla is a household name that popularized the notion of electrified vehicles. For that, we tip our hats. But sustainability should be a 360-degree approach, and with that in mind, we believe in the Volvo XC90 Recharge. The Volvo XC90 Hybrid offers a great way to transition to electrification with the flexibility to have pure EV cruising or internal combustion engine (ICE) power. Not only that, our Volvo service center has you covered for three year/36,000 miles worth of complimentary service. Tesla, for nearly double the MSRP, does not.
So for our dollar, the winner in our Tesla Model X vs. Volvo XC90 Hybrid comparison is hands down the Volvo XC90 Hybrid. But what about the rest of the field? How does our new reigning champion weigh in against other heavy hitters in the family SUV segment? Compare the Volvo XC90 to the Honda Pilot and see if Volvo Cars has what it takes to come out ahead of a brand known for reliability. We think you'll be surprised by what you find.
---
1Range is EPA estimates only. Your results will vary depending on a wide variety of factors.
2Prices shown are Manufacturer's Suggested Retail Price (MSRP), Base Price or Starting At price and excludes destination fees, taxes, title, license, and registration and/or electronic filing fees, dealer fees. Images shown are for informational purposes only. They may not necessarily represent the configurable options selected or available on the vehicle and they do not show true renderings of colors and/or upholstery. We cannot be responsible for typographical or other errors, including data transmission, display, or software errors, that may appear on the site.
---
Make an Inquiry
* Indicates a required field