Care By Volvo Subscription And Program In El Paso, TX

Care By Volvo Subscription And Program In El Paso, TX
The Care by Volvo subscription program is the modern way to lease a new Volvo vehicle. If you want a sedan for the summer and an SUV for the winter, subscribing to the Volvo Care program lets you enjoy the best of both worlds. Maybe you want to drive a Volvo XC60 SUV for the next year, but know you'll need to upgrade to the three-row Volvo XC90 when that new family member arrives. If that's the case, a Volvo subscription gives you more flexibility than a typical car lease.
What Is a Care by Volvo Subscription?
The Care by Volvo program gives you options and convenience. When you start a Volvo Cars subscription, you get to pick a new Volvo vehicle, have one easy monthly fee, and drive the vehicle for a minimum of five months. After that, you can keep subscribing to the same vehicle or re-apply for a different vehicle as your tastes and needs change.
After your application is approved and eligibility requirements are met, your Volvo subscription vehicle will either be ready for you or delivered to our dealership for you to pick up. The timeline for delivery is typically within two weeks, based on availability and any transit time, but you aren't paying for this time. Your subscription starts the day you take delivery. At that point, you're welcome to add a personal "vanity" plate to the vehicle and any Volvo accessories you'd like to have.
What's the Volvo Car Subscription Fee?
The monthly fee includes your lease payment, insurance premium, and all factory-schedule maintenance appointments. The cost of a subscription varies on the model you select, the Liberty Mutual Insurance policy, and taxes and registration fees that vary by state. The Care by Volvo subscription comes with the ability to drive up to 1,250 miles per month, which is 15,000 annual miles. Additional mileage can not be purchased, so be sure to gauge your mileage needs and habits accurately.
At the end of your Volvo subscription, the vehicle will be assessed for excess mileage, wear, and tear when you turn your vehicle. If you have driven more than the contracted mileage limit, you will be responsible for the per-mile overage fee stipulated in your subscription contract. This amount is typically 25 cents per mile for every mile.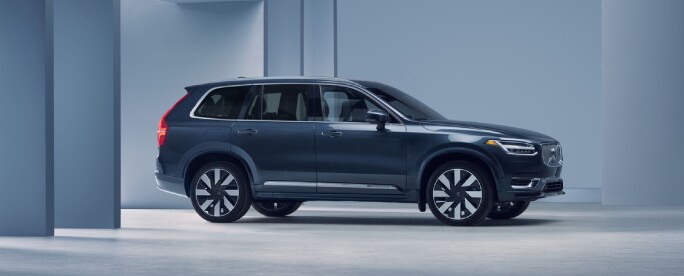 What Does the Care by Volvo Fee Include?
One of the reasons so many drivers love our Care by Volvo subscription in El Paso, TX, is the convenience of having one monthly fee for your auto lease and insurance. That's right -- Volvo subscription vehicles include Liberty Mutual Insurance. The plan comes with a $500 deductible and includes Gap Insurance. The Care by Volvo subscription all-in-one fee includes:
Liberty Mutual Insurance
Gap insurance
All factory scheduled maintenance
Road hazard tire and wheel protection
1,250 miles per month
Excess wear protection
Vehicle payment
24/7 roadside assistance
Having your 10,000-mile, factory-scheduled maintenance services, wiper blades, brake service, and Volvo oil change included with the Care by Volvo subscription is one of the more popular perks of the program.
The road hazard protection for wheel protection and Volvo tire replacement are also part of your monthly subscription cost.
Care by Volvo Eligibility

At this point, you're probably wondering how you can apply for a Volvo Cars subscription. To get started, all you have to do is apply for credit with our finance team, just like you would if leasing a car from us. Eligibility is determined using the Volvo Cars credit score requirements and other risk factors.
The Care by Volvo subscription eligibility requires a credit check and a valid U.S. driver's license. If you want to share your subscription vehicle with another family member, you each need to meet the credit and eligibility requirements.
Frequently Asked Questions
Can you negotiate Care By Volvo?
Yes, if you are subscribing to a new Volvo vehicle on our lot, you can negotiate the price of the car, just as you usually would. However, various taxes and fees are subject to your state, and insurance rates vary by driving record. There are also additional maintenance, protection, and coverages that are included in the price of every subscription.
What cars are included in Volvo Care?
Care by Volvo subscription vehicles includes almost all new cars and SUVs in stock at our local Volvo dealership. If there is a particular model or trim you're interested in, please give our dealership a call. Our inventory changes daily, so expect changes in pricing and features. You can subscribe to a new SUV, sedan, or plug-in hybrid based on availability.
What happens at the end of my Volvo subscription?
When you're ready to end your Care by Volvo subscription, you can return the vehicle to our dealership. The vehicle will be assessed for excessive wear and tear and excess mileage, and then a bill will be generated if necessary. You can cancel at any time, but if you end your subscription before the fifth scheduled payment, there will be an early termination fee.
Make an Inquiry
* Indicates a required field