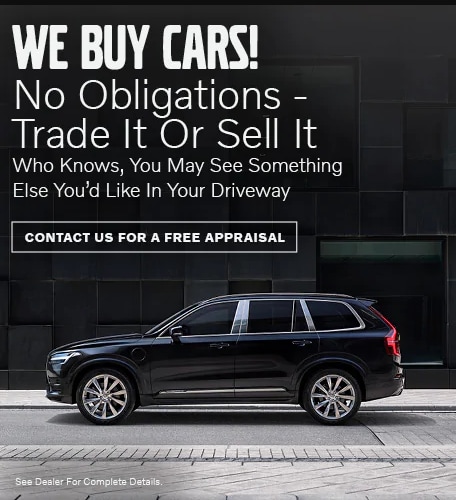 Used Cars For Sale In El Paso, TX
Your selection of used cars for sale is right here, waiting for you to discover. At Giles Volvo Cars of El Paso, we pride ourselves on offering a vast inventory that accommodates a wide range of needs and budgets.
You'll find many great vehicles to choose from, including used Volvo sedans, wagons, SUVs, and plug-in hybrids for sale at an attractive price. Choose a used Volvo vehicle, and you can get the utmost confidence with our rigorously inspected certified pre-owned selection.
Whether it's comparing used Volvo XC40 trim models or applying for used car financing specials, our team is committed to serving all your used car needs. Contact us for a test drive of your pick at your leisure.
About Our Used Cars for Sale in El Paso
Every driver has a different approach when shopping at a used car dealer. Some prioritize a wide selection of vehicle types, some prioritize a selection offering value, while others prioritize a selection with a focus on quality vehicles. You'll find that our inventory focuses on all of the above, regardless of whether it's a used truck, sedan, or used Volvo SUV in El Paso.
That's not all, though, as we stand tall with a focus on working closely around your unique wants, needs, taste, and budget. We're confident we can find the perfect used car for you with a vast selection of quality, competitively-priced used vehicles. You'll find certified pre-owned Volvo vehicles for a confident and competitive ride, used sports cars for non-stop thrills, and many more types of used cars for sale.
Our inventory is subject to change, but some of the great makes and models offered include:
Volvo Used Cars
Volvo vehicles are near and dear to our hearts, and for a good reason. Market-leading safety, cutting-edge technology and innovations all around, sleek style, powerful performance, and sumptuous luxury are just a few reasons to choose a used Volvo sedan or SUV. Among the selection, you'll find agile compact SUVs like the Volvo XC40, sports sedans like the Volvo S60, and many competitive hybrids or all-electric options. For a taste of just how competitive they are, simply compare the Volvo XC90 and Tesla Model X.
Used SUVs for Sale in El Paso, TX
Most of our used Volvo cars are used SUVs for sale. They're spacious, well-equipped rides for every lifestyle. From a compact used Volvo XC40 to a used three-row SUV like a pre-owned Volvo XC90, our pre-owned Volvo SUV lineup has a model for every driver.
The luxurious, safe, fuel-efficient fleet of used Volvo SUVs is just the beginning of what our used car dealership has to offer. Our inventory is subject to change, and we get new models daily. When you explore our used SUV inventory, though, you'll find popular, lifestyle-ready models no matter your preferences.
Looking for a used 4x4 SUV? We typically have used Ford SUVs like a used Explorer, used Chevy SUVs like a used Tahoe for sale, and many more. Of course, no selection of used 4x4s for sale would be complete without used Jeep SUVs, and we typically have plenty. Whether you're looking for a used Jeep Wrangler Rubicon in El Paso, TX, or an AWD-layout used Kia Telluride for sale, we've got your back.
Used Trucks for Sale
At Giles Volvo Cars, used cars are just one part of our inventory. Our selection of used trucks for sale in El Paso, TX, caters to all the pickup preferences you may have. We know you're probably got a favorite truck manufacturer. We have Chevy trucks like a used Silverado 1500 for sale, used Ford trucks like a pre-owned Ford F-150, and used Ram pickups like a pre-owned Ram 1500.
If you're looking to do some heavier-duty-hauling, we have equally-rich choices like a used Ford Super Duty for sale, a used Chevy Silverado 2500, a used Ram 2500, and much more. With Japanese alternatives like a used Nissan Titan or a used Toyota Tacoma to boot, our used car dealership has a pre-owned truck for you.
Used Cars With a Manual Transmission for Sale
Some drivers prefer to row their own gears and feel in sync with their vehicle. If that describes your driving taste, you'll find like-minded enthusiasts when you choose our dealership. As a used car dealer El Paso drivers can count on for comprehensive, competitively priced choices, we pay special attention to used stick-shift cars. We make sure that these engaging three-pedal vehicles are ready for passionate enthusiasts like you to enjoy.
Modern-era used Volvo cars may not offer a clutch pedal. However, we typically have fun-loving, daily-driving used manual transmission cars like a used VW Golf and often pre-owned sports cars like a used Ford Mustang with a stick shift.
Stop by Giles Volvo Cars El Paso Today
We want your vehicle purchasing decision to be a confident one. Stop by our dealership to explore all your options, and have all your questions answered in person with a tour and test drive today. Make the process a breeze by applying for financing online, and get ready for years of driving pleasure with our selection of used cars for sale.
FAQs & Our Used Cars for Sale in El Paso, TX
Do Volvo vehicles keep their value?
Yes, they do. With strong residual values, you can count on your Volvo vehicle being worth close to target market values for years to come. But there's more to value than a monetary figure. Many Volvo vehicles have become the way that families communicate and make memories. Road trips, camping trips, and even daily adventures make lasting memories. These vehicles are often passed on to kids when they come of age as drivers.
How many miles can a Volvo vehicle last?
Volvo Cars holds the Guinness World Record for the highest mileage ever recorded in a vehicle. That vehicle has over 3,250,000 miles on the clock and is still going strong. The factory offers unlimited mileage powertrain warranties on CPO vehicles, and Giles Volvo Cars also backs you up with a lifetime powertrain warranty on most models. Why? Because when it comes down to it, a Volvo vehicle seems to go forever.
What is a good used Volvo model?
Any Volvo model is a good one to pick up as a used vehicle. So much depends on your lifestyle and personality as a driver. So if you're into sporty & luxurious commutes, then a Volvo S60 or Volvo S90 would be perfect. If you're a family on the go, you'll love our agile Volvo XC60 or full-size Volvo XC90. Most of all, you'll want to ensure you get your favorite model from a reputable seller, like Giles Volvo Cars in El Paso, TX. We'll ensure that the one you choose is ready to go the distance.
Featured Reviews
◀
▶
"I needed a daily drive at the last minute. I got a great deal on a very low miles used vehicle. They even added a 100000 mile powertrain warranty. Go see Manny, he's a great salesman without all the BS. He's strait to the point and the paperwork was done quickly. Thanks."
— Thomas White, 5 stars on 10/17/2020
Leave A Review
* Indicates a required field
Discover More Used Cars For Sale In El Paso, TX: